Green Fee: $20 wk. (incl. cart) / $18 wknd./$9 after 5:30 p.m.
Cart Fee: $10/person
Directions:
Bluegrass Parkway to US 150E or KY 555S
Packages:
American Cancer Society Package
American Lung Association Package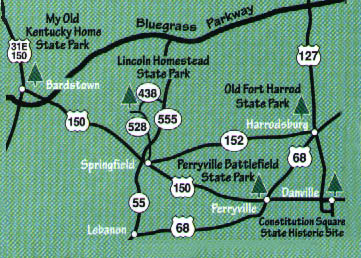 18 Holes {Public}
Owner/Manager: PGA Pro, Gary Feldman
5079 Lincoln Park Road
Springfield, KY 40069
Phone: (606)336-7461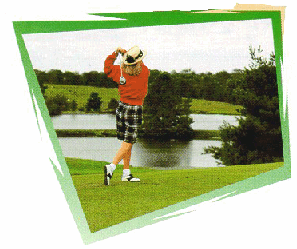 This course is both complicated and easy which will challenge any golfer.
The front nine are on rolling and hilly terrain which may make it difficult, while
the back nine holes are situated on flat and easy ground. The following
facilities are available: pro shop, club rental, cart rental, putting green, and
a snack bar.
Course Vital Statistics
Par: 71 Rating: 70.7 Slope: 119 Yardage: 6,359
Par: 71 Rating: 69.8 Slope: 118 Yardage: 6,090
Par: 73 Rating: 70.8 Slope: 118 Yardage: 5,472