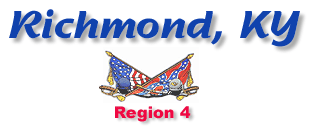 The Battle of Richmond, a part of the 1862 Confederate invasion of Kentucky called the Perryville Campaign, was one the greatest Confederate victories of the entire war. The three engagements which are associated with this victory took place between August 29 and 30, with over 80% losses by the Federal forces. The first engagement took place at Big Hill, south of Richmond, and the second occurred at Berea.
The third engagement of the Battle of Richmond took place at Richmond Cemetery. Union forces who were beginning to retreat at this time, were met by their commander, Major General William Nelson, who berated them as cowards. The general attempted to form the forces into a defensive line by riding up and down, brandishing his sabre, and slapping the sword across the backs of the men. A formidable figure of 300 pounds, Nelson shouted, "Boys, if they can't hit something as big as I am, they can't hit anything." He was immediately shot in the thigh and removed from the scene.
A 2-hour self-guided driving tour of the battle site features eight stops which begin at Big Hill southeast of Berea and end at the Madison County Courthouse in Richmond. The brochure and audio tape are available from the Richmond Tourist Commission (800)866-3705.
Richmond Cemetery, where many of the soldiers killed in the battle are buried, is located on E. Main St. (US 25 S). Other notable individuals buried in this cemetery are US Represenative Daniel Breck, Green Clay, and Cassius M. Clay.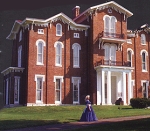 White Hall State Historic Site: Cassius M. Clay, emancipationist, editor, and friend of Abraham Lincoln, was the owner of this Italianate mansion. Also known as "the Lion of White Hall," Clay was commissioned as a Union general and later served as a minister to Russia.
Civil War Historical Markers in Richmond:
Big Hill Skirmish (State Marker 1124, N. of US 421, near Jct. of Madison, Jackson. & Rockcastle Counties, Madison Co.)
Richmond-Prelude and Richmond-Battle (State Marker 1300, US 421, 1.2 mi. S. of Jct. US 25 at Terrill, Madison Co.)
Civil War Action (State Marker 514, Big Hill, US 421, Madison Co.)
"Lion of White Hall" (State Marker 533, 7 mi. N. of Richmond, Jct. US 25 & KY 627, Madison Co.)
Cassius Marcellus Clay, U.S Minister To Russia (1861-62; 1863-69) (State Marker 1576, Entrance to Richmond Cemetery, US 25 & KY 52,
Madison Co.)
Civil War Field Hospital (State Marker 1825, Approx. 4 mi. S. of Richmond, US 421, Madison Co.)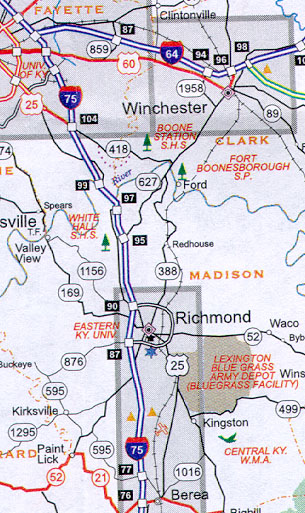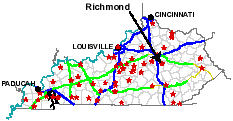 For additional information: