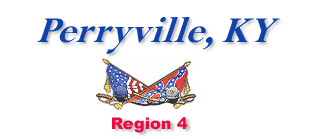 Perryville is located 10 miles west of Danville. The downtown Merchant's Row buildings are much the same in appearance as during the Civil War.
| | |
| --- | --- |
| | Kentucky's most important Civil War battle took place at Perryville Battlefield State Historic Site on Oct 8, 1862. It was the South's last serious attempt to gain possession of the state. The park has a museum (April-Oct daily 9-5, $2), nature trails, picnic area and playground (off US-68 & US-150, 606/332-8631, no handicapped accessible restrooms). |
An annual battle re-enactment takes place on the weekend nearest the battle's anniversary.
Perryville Battlefield features both walking and driving tours, which can be obtained at the park or by calling (606) 332-8631.
CIVIL WAR HISTORICAL MARKERS NEAR PERRYVILLE:
Battle of Perryville (State Marker 58, US 68 & 150, Boyle County)
Bottom House (State Marker 192, Perryville Battlefield, US 66 & 150, Boyle County)
Crawford House (State Marker 193, Perryville Battlefield, US 66 & 150, Boyle County)
Russell House (State Marker 194, Perryville Battlefield, US 66 & 150, Boyle County)
Dorsey House (State Marker 195, Perryville Battlefield, US 66 & 150, Boyle County
Michigan at Perryville (Michigan State Marker)
Illinois at Perryville (Illinois State Marker)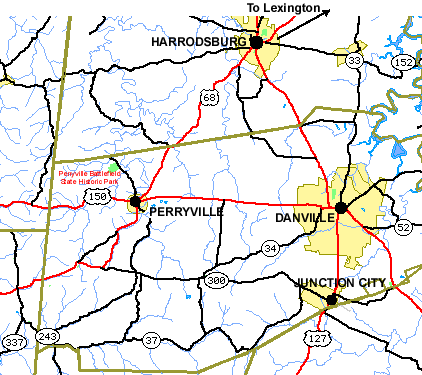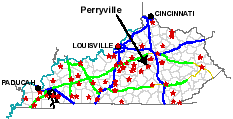 For more information:
Back to Region 4 Map