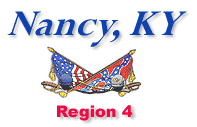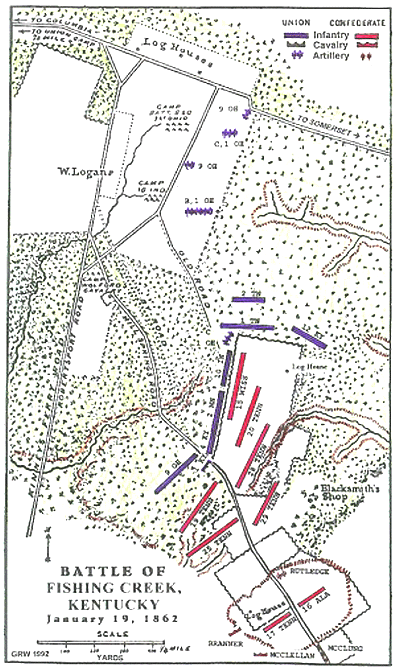 MILL SPRINGS BATTLEFIELD NATIONAL HISTORIC LANDMARK: The Battle of Mill Springs is considered one of the most important early battles fought in Kentucky. The event took place approximately one mile south of Nancy on January 19, 1862. The battle (also known as the battle for Logan's Crossroads, the Battle of Fishing Creek, and the Battle of Somerset) was a decisive Union victory. The battle site is located on KY 235 just south of Nancy. Guided tours are available for six persons or more with one week advance notice. A self-guided driving tour is also available. For more information, call (606)679-1859. The Battle of Mill Springs Commemoration Ceremony is held on the weekend closest to January 19 and Memorial Day.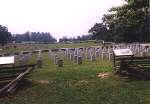 MILL SPRINGS NATIONAL CEMETERY: Union soldiers who died in the Battle of Mill Springs are buried in this cemetery, located in Nancy.
Zollicoffer Park honors the Confederate general who died in the Battle of Mill Springs. The site of the fiercest fighting, the park contains a mass grave of Confederate soldiers.
An interpretive brochure for the Battle of Mill Springs is available from the Somerset-Pulaski Tourist Commission, (800)642-6287.
In the city of Somerset, east of Nancy, is a monument dedicated to the Battle of Dutton's Hill.
CIVIL WAR HISTORICAL MARKERS IN PULASKI COUNTY:
Morgan's First Raid (State Marker 677, Somerset, Library lawn)
Confederate Defense Line / Battle of Mill Springs (State Marker 863, Nancy, W. of Sommerset, Ky 80)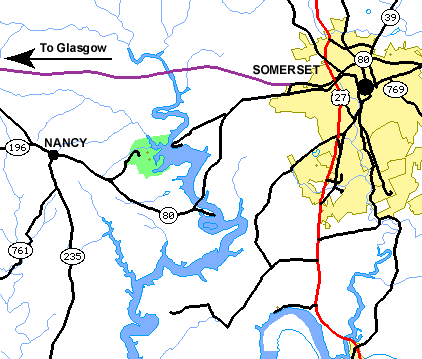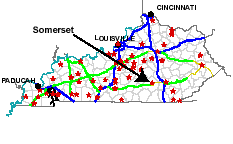 For more information:
Back to Region 4 Map