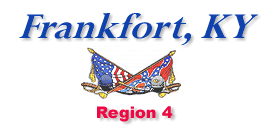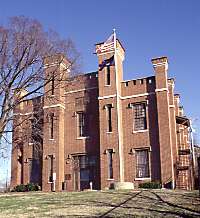 The Kentucky Military History Museum, on East Main at Capitol Avenue, traces two centuries of the state's military heritage through an extraordinary collection of weapons, uniforms, flags and photographs (free, Tuesday-Friday10-5, 502/564-3265, handicapped accessible). Call to schedule tours for groups on the weekend must be made in advance. It is housed in the 1850 State Arsenal, which was used during the war as a regional supply center for Northern troops from Midwestern states.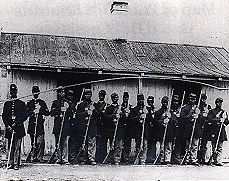 The Franklin County USCT Monument, located in Greenhill Cemetery, was erected in honor of African-American soldiers from the central Kentucky area who fought for the Union. One hundred and forty-one names are engraved on the monument, which was erected by the Colored Women's Relief Corps in 1924. All of these soldiers were mustered into Federal service at Camp Nelson, KY. Greenhill Cemetery is located on W. Main St. near the intersection with US 60 and is open daily from dawn to dusk. For more information, call (502)696-0607.
A self-guided walking tour of the Civil War forts of the Leslie W. Morris Park on Fort Hill is also featured. Fort Hill is the site of two earthwork forts that were built to repulse an attack on Frankfort by Confederate cavalry raiders in 1864. To obtain the walking tour brochure, call (502)696-0607.
The Frankfort Cemetery, 215 E Main, is very scenic and overlooks the Kentucky River at its southern edge. A brochure gives the location of the graves of many Civil War notables, the Confederate monument and surrounding known graves, and the state military monument that describes Kentucky's role in the Civil War. (free, M-Sat 7:30-dusk, Sun 8-dusk, (502)227-2403, not handicapped accessible).
The Old State Capitol, an 1829 Greek Revival masterpiece located at Broadway & Lewis, was the only Union capitol captured by Southern Troops, Here Kentucky's legislature voted first to maintain official neutrality, although the state later became bitterly divided. Resentful of wrongful Union treatment, Kentucky--following the war's end--became so southern-sympathetic that it was observed, "Kentucky seceded after the war." The Old Capitol is handicapped accessible and is open Mon-Fri from 9am to 4pm, Sat from noon-5pm, and Sun 1-5pm. Admission is free. For more information, call (502)564-3016.

The Kentucky State Capitol Rotunda, 700 Capitol Ave., features statues of prominent Kentuckians, including Abraham Lincoln, sculpted by A. Weinman; and Jefferson Davis, sculpted by Rederick C. Hibbard. Both leaders were born in Kentucky--less than 1 year and 100 miles apart. In 1904, the Kentucky legislature appropriated $1 million, a debt collected from the US War Department as reparations for damages inflicted by Federal soldiers during the Civil War, to build the new capitol. The Capitol is handicapped accessible and is open Mon-Fri from 9am to 4:30, Sat 8:30 to 4:30, and Sun 1 to 4:30. Admission is free. For more information, call (502)564-3449.
A Civil War driving tour and downtown walking tour are also available. For more information, call the City of Frankfort's Parks, Recreation & Historic Sites, (502)696-0607.
Leslie Morris Park on Fort Hill is a 125 acre Civil War site with two earthwork forts, an 1864 Morgan's Riad skirmish site, an 1810 log house visitor center and a full program of special events and guided tours. Call (502) 696-0607 for more information.
CIVIL WAR HISTORICAL MARKERS IN FRANKFORT:
A Civil War Reprisal (State Marker 504, New Capitol Grounds, Frankfort)
Confederates Here (State Marker 522, Old Capitol Grounds, Frankfort)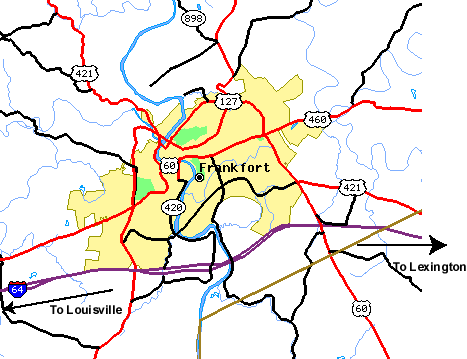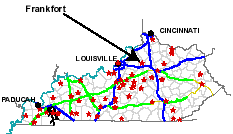 For additional information:
Civil War Heritage Trail guidebook
"Kentucky's Civil War Heritage Trail" brochure
"1000 Mile Front" brochure
"Kentucky Heritage Tours" brochure
City of Frankfort's Department of Parks, Recreation and Historic Sites (502)696-0607
"Frankfort, Kentucky" brochure (800)960-7200 or www.frankfortky.org
"Frankfort Cemetery" brochure
Fort Hill walking tour brochure (502)564-3265
Frankfort Tourism Commission (800)960-7200
Kentucky Historical Society (502)564-3016
Back to Region 4 Map