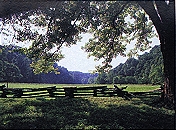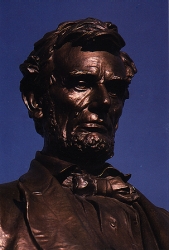 "I was born on February 12, 1809, in the then Hardin County, Kentucky, at a point within the now county of LaRue, a mile or a mile and a half from where Hodgen's Mill now is." Abraham Lincoln
On December 12, 1808, Thomas Lincoln paid $200.00 cash for 348 acres of rough land situated a short distance south of Hodgen's Mill, Kentucky. Identified locally as the Sinking Spring Farm, the property was best known for the cool waters of a large limestone spring which surfaced there. It was on a knoll above the spring that Thomas, his wife Nancy, and their first child, Sarah, settled into a one-room log cabin. On February 12, 1809, the walls of that crude cabin resounded to the cries of Thomas and Nancy Hanks Lincoln's newborn son, Abraham.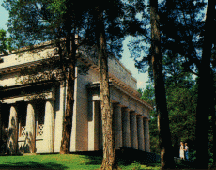 Abraham Lincoln Birthplace National Historic Site 3 mi. S. of Hodgenville on US 31E, KY 61 is a marble and granite memorial shrine which encloses the symbolic birthplace cabin of Abraham Lincoln (1809-1865). There are 56 steps, 30 ft. wide, leading to the shrine, one for each year of Lincoln's life. Above the portals is carved, "With malice toward none, with charity for all . . . " One of the most visited shrines in the U.S. since its completion in 1911, the park features 100 acres of the original Thomas Lincoln farm where Abraham was born. A picnic area and hiking trails are available. The Visitors Center houses exhibits on the Lincoln family and an audio-visual program on Lincoln's boyhood. On the site is Sinking Spring, the limestone spring which was used by Lincolns. Steps lead to the spring for viewing. Memorial Day-Labor Day 8-6:45, rest of year 8-4:45. Free. (502)358-3137.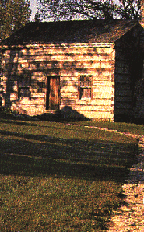 LINCOLN'S BOYHOOD HOME, Knob Creek Farm, US 31E, 7 mi. NE is the site of Lincoln's last home in Ky. (1811-1816). A replica of the original cabin is furnished with historic items donated by descendants of early Knob Creek settlers. Guided tours are available daily Apr.-Oct.
ABRAHAM LINCOLN STATUE is located in Lincoln Square, which is the heart of the community of Hodgenville. A bronze by A. A. Weinmann, the statue was commissioned by Congress and erected in 1909.
THE LINCOLN MUSEUM in the downtown historic district is located near the famous Lincoln Statue. Life-like wax figures in historic settings enable visitors to follow the important events in the life of Abraham Lincoln. The museum features an original Lincoln art collection, film, exhibits, and the Lincoln Trail driving tour. AAA approved. Open daily. 66 Lincoln Square, Hodgenville, KY 42748. (502)358-3163.
SPECIAL EVENTS include the Lincoln's Birthday Commemoration on Feb. 12. Other events are the Mid-Ky. Kennel Club Dog Shows, LaRue Co. Sportsman's Lake Club on May 2 & Labor Day, Magnolia Homecoming, in mid-May, LaRue County Fair in early August, Buffalo Days in early August, and the Lincoln Days Celebration, Oct 10-11.
CIVIL WAR HISTORIC MARKERS IN HODGENVILLE AND LARUE COUNTY:
Lincoln Knob Creek Farm (State Marker 120, 6 mi. NE of Hodgenville, US 31E, Larue Co.)
Courthouse Burned (State Marker 591, courthouse lawn, US 31E, Hodgenville)
Civil War 1862 Invasion (State Marker 749, N. of Phillips Ln., KY 61, Hodgenville)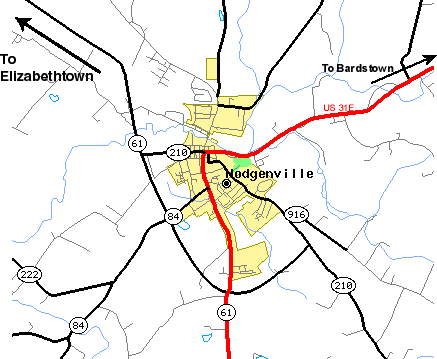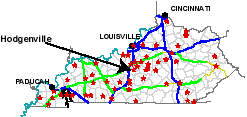 For more information:
Back to Region 3 Map