The home of Colonel Robert Buckner, built in 1855 was used by John Hunt Morgan as his headquarters for some time. It held a commanding view of the mighty Ohio for many miles and was used as a lookout point for the troops.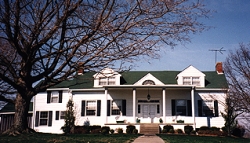 The city of Brandenburg, county seat of Meade County, is located southwest of Louisville on KY 448. Its location on the banks of the Ohio River made it a prime spot for shipping and trading as well as a perfect site for a Confederate crossing into Indiana. On the morning of July 8th, 1863, General John Hunt Morgan led his troops down the main street of Brandenburg and began ferrying men and supplies across the river. Just east of Brandenburg is the site where the infamous "Sue Mundy" was captured.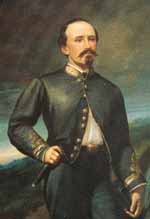 General John Hunt Morgan Driving Tour: Follow the four-day action of General Morgan's raid on Brandenburg. A complimentary brochure chronicles the Confederate leader's time here, which included a skirmish on the river and the burning of a steamer named the Alice Dean.
For more information, please call the Chamber of Commerce (502) 422-3626
A copy of the brochure may also be obtained at the Meade County Public Library which is located at 400 Library Place off Broadway (Highway 448).
CIVIL WAR HISTORICAL MARKERS IN BRANDENBURG/MEADE COUNTY:
Morgan - On to Ohio (State Marker 529, Main St. at river, Ky 228)
Morgan's Headquarters (State Marker 602, Brandenburg, KY 228)
Morgan's Raiders Camp (State Marker 766, KY 448, W. of Jct. KY 1638, Meade County)
"Sue Mundy" Captured (State Marker 536, 2 mi. E. of Breckinridge Co. line, US 60, Meade Co.)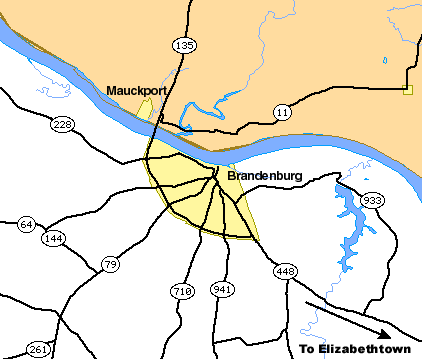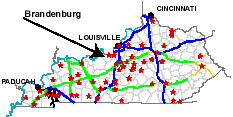 For additional information:
"General John Hunt Morgan: 1863" brochure
"General John Hunt Morgan Driving Tour" brochure
Civil War Discovery Trail guidebook
Contact Tourism Director Pat Bowen (502)422-5873
Back to Region 3 Map