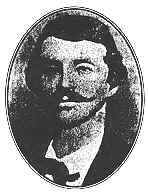 Bradfordsville lies at the heart of an area that was burned and pillaged by William Clarke Quantrill and his gang of guerillas who masqueraded as Union soldiers. His gang included the notorious Sue Mundy and Frank and Jesse James.
West of Bradfordsville on Rt. 49 is the site of the "Toll Gate Encounter" where four men who were captured in New Market were put to death. Sue Mundy's horse, which was killed during the conflict, fell on Mundy, who was freed with Quantrill's help.
This encounter is one of 15 stops on a driving tour that is available from the Bradfordsville Civic Center on Main St. The "Quantrill's Trail" brochure reads: "Relive the times that William Quantrill rode havoc through the Central Kentucky region. Note that he pillaged through the area twice, and that at the end of the second tour he was put to death."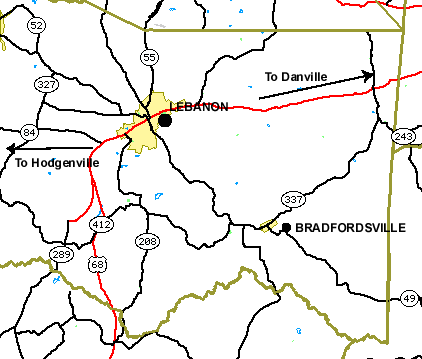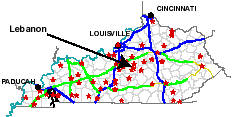 For addditional information:
"Quantrill's Trail" brochure
Bradfordsville Civic Center, Main St. Bradfordsville, KY 40009
Back to Region 3 Map