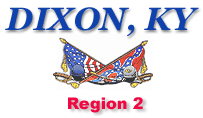 Webster County will soon be participating in the Civil War Driving Tour sponsored by the Kentucky Heritage and Tourism Council. Signs will be erected at four major sites:
The Battle of Slaughtersville, June 27, 1863: Col. William Hollis of Webster County and 480 men of the CSA were camped near the railraod on the Dr. Tom Drake farm. The Union army came upon them and attacked, defeating the Confederates and killing Col. Hollis.

The Battle of Burnt Mill, Sept. 15, 1861: Capt. Al Fowler and the Webster County Home Guard of KY CSA came upon 25 troops camped at Old Tirzah Church and captured them. This is reputed to be the first shot fired in the Civil War in Kentucky.

The Battle of Dixon, Aug. 8, 1863 and the Burning of the Dixon Jail, Aug. 10, 1863: Capt. F. M. Headley CSA, Camp E, 8th Reg., was recruiting men in Tennessee and Kentucky in the area. Capt. Headley and 30 CSA recruits were attacked outside of Dixon on their way to Clay, KY and only a few CSA men escaped. Two days later, Union soldiers that had been held in the log jail at Dixon, which confined Civil War prisoners only, burned the log jail and the county jail located at the side of the courthouse.

The Campsite of Gen. Nathan Bedford Forrest at Providence, Nov. 24-Dec. 5, 1861: Gen. Forrest and his company camped here on their return to Hopkinsville, KY after being in Union County.
A brochure for the driving tour is available from Lowell Childress (270)667-5022.
CIVIL WAR HISTORICAL MARKER IN WEBSTER COUNTY:
Forrest Reconnoitered (State Marker 617, US 41 & KY 120A, Providence, Webster Co.)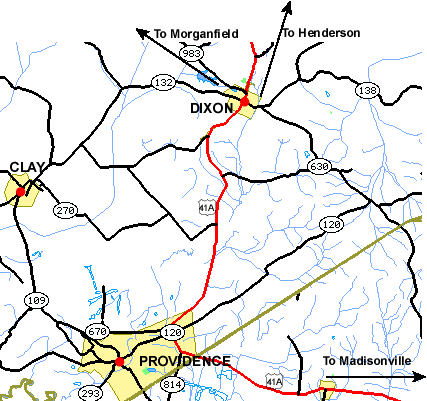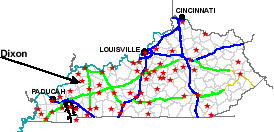 For additional information:
Contact Lowell Childress (270)667-5022.